Grand Unwrapping Event Marks the Arrival of the Giving Machine at Omaha's Westroads Mall
Omaha, Nebraska (November 21, 2023) — The Giving Machine arrives at Westroads Mall with a special Grand Unwrapping Event scheduled for 10:00 AM on November 21, 2023. This festive kickoff to a week of compassionate giving will be grand marshaled by John Oakey, the respected former anchor of KETV Newswatch 7. It will feature notable attendees, including Archbishop George Lucas of the Archdiocese of Omaha, Nebraska First Lady Suzanne Pillen, and Area Seventy Elder Rodney Ames of The Church of Jesus Christ of Latter-day Saints, all coming together to signify the community's collective spirit of charity.
Located next to Santa Claus at the Von Maur courtyard, the innovative Giving Machine, the vending machines with a twist, offers Omaha residents a unique way to donate essential items to both local and international charities during the holiday season. The initiative will be active at Westroads Mall through November 28, 2023.
During the Grand Unwrapping Event, community members will have the opportunity to be among the first to make their contributions by purchasing items such as food, clothing, baby supplies, and medicine, as well as livestock for families in need around the globe. The simple act of swiping a card at the Giving Machine can profoundly impact the lives of the less fortunate, both locally and internationally.
The annual #LightTheWorld campaign, under the sponsorship of The Church of Jesus Christ of Latter-day Saints, has expanded the Giving Machine initiative to 61 global locations since its inception in 2017. To date, the initiative has seen over 1.5 million visitors, raising more than $22 million in donations and supporting over 240 local nonprofit organizations.
"Every contribution can lead to significant changes, no matter how small. This is an opportunity for everyone to be part of a global movement of kindness," remarks Rachael Chappell, Communication Director Nebraska Region for The Church of Jesus Christ of Latter-day Saints.
Local nonprofit beneficiaries this year include:
One World

Sienna Francis House

House of Bah

Catholic Charities

Foster Care Closet of Nebraska

iDE

American Red Cross

Mentors International
Dave Vankat, Chief Community Engagement Officer of Catholic Charities of Omaha, shares his gratitude, stating, "We are very grateful for the opportunity to collaborate with other agencies and the LDS church to support our community through the Giving Machines."
The initiative has garnered widespread recognition, including from The Drew Barrymore Show in December 2021, which praised the #LightTheWorld Giving Machine campaign's impact.
Giving Machines allows patrons to make selections ranging in donations from $3 to $300, making charitable giving accessible to all. Contributions can also be made at LightTheWorld.org for those unable to visit in person, with 100% of all donations going directly to the participating charities.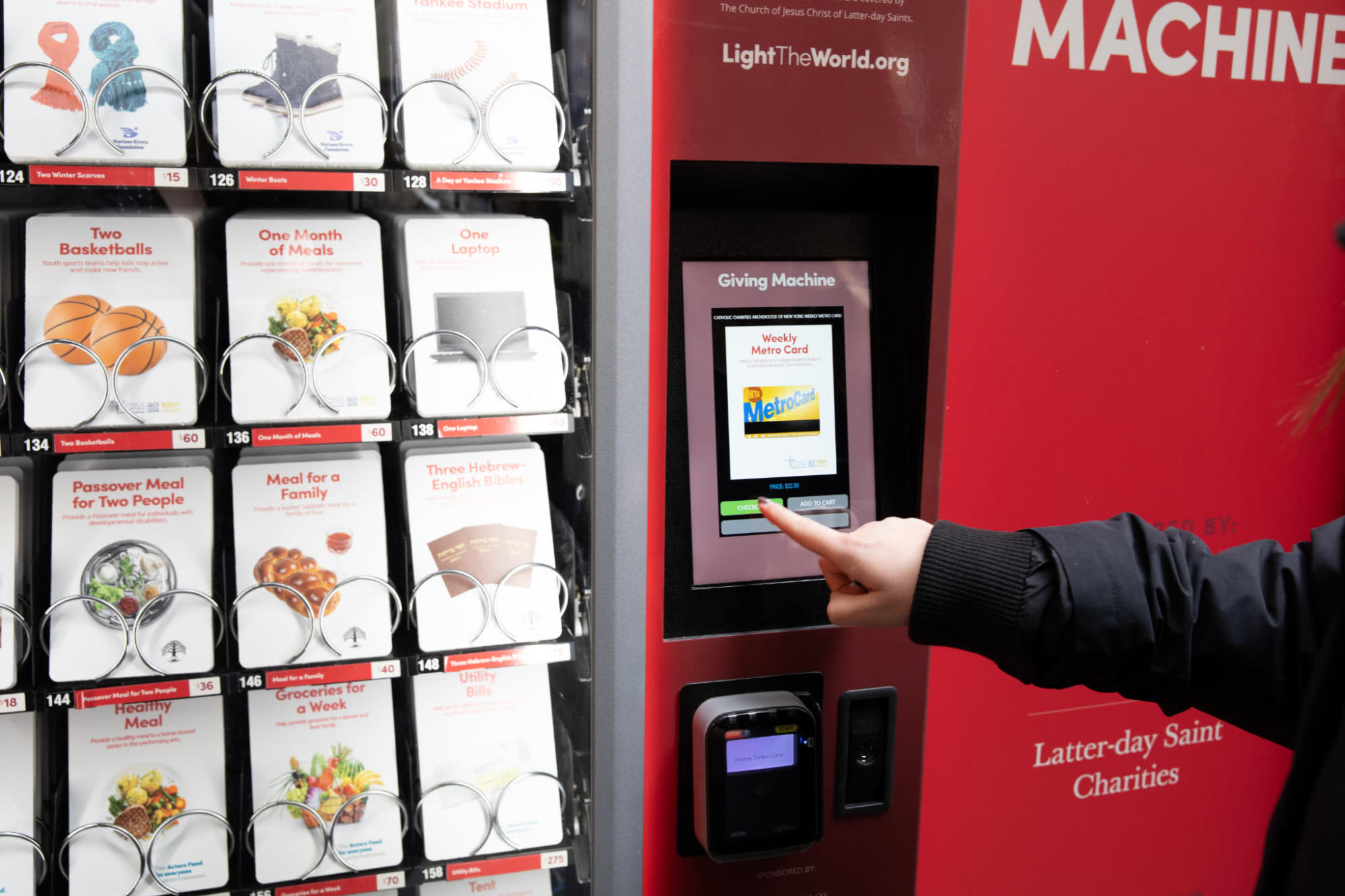 About the #LightTheWorld Campaign:
The #LightTheWorld campaign, initiated by The Church of Jesus Christ of Latter-day Saints in 2017, encourages individuals to engage in acts of service that light the world one by one.
###
Notes to Editors:
The official announcement of Giving Machines for 2023 from The Church of Jesus Christ of Latter-day Saints is at https://www.thechurchnews.com/living-faith/2023/11/10/23955704/light-the-world-2023-giving-machines-61-locations-austraila-new-zealand-philippines-us-mexico-canada




#LightTheWorld Giving Machine details can be found at https://www.churchofjesuschrist.org/comeuntochrist/light-the-world/giving-machines

More on #LightTheWorld campaign can be found at LightTheWorld.org.

The Drew Barrymore Show segment from December 2021 that featured the Giving Machines can be viewed at https://www.youtube.com/watch?v=AZ29ImIzTxI.
Media Contact:
Rachael Chappell, Communication Director Nebraska Region
The Church of Jesus Christ of Latter-day Saints
402-981-8187
###
Additional Note: Creative Jolt, LLC is a local advertising agency that is proudly assisting with this community event and distribution of press releases.
Images
Additional Info
Media Contact : Rachael Chappell, 402-981-8187, chappellsaints@gmail.com
Related Links : https://www.youtube.com/watch?v=AZ29ImIzTxI
Source : https://www.thechurchnews.com/living-faith/2023/11/10/23955704/light-the-world-2023-giving-machines-61-locations-austraila-new-zealand-philippines-us-