50 Mile March Foundation: Sponsorship Opportunity!!!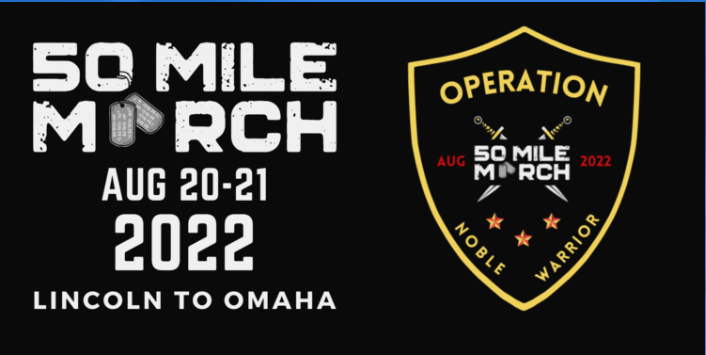 MISSION:
Walk 50+ miles from Lincoln to Omaha to raise funds and awareness for Homeless Veterans & Veterans with Mental Health Challenges.
The 50 Mile March Foundation's mission is to support local individuals and small local organizations that aid to the betterment of our veterans who are in need of assistance.
In 2021 we pushed ourselves to raise over $140,000 during the campaign of the 50 Mile March! All funds raised were donated to local organizations who assist veterans who need our support. These often include those who are suffering from homelessness or PTSD. Our community showed
tremendous support during 2021 and we are seeking support for our 2022 50 Mile March-Operation Noble Warrior.
So far, the community has raised $35,000 toward our fundraising goal-but we still have a lot of ground to cover. That's where your business comes into the picture. Would you be interested in joining us on this journey by making a contribution to the cause? A gift of any amount can make a
difference. Attached you can find more information about us and opportunities for sponsorship along with ways to donate!
Here is a link to the march/sponsorship website for your review. www.50milemarch.org https://www.50milemarch.org/sponsors
We would love to talk in more detail, so please don't hesitate to reach out! We do have a corporate educational event about the cause coming up on 05/12/2022 at Barnato (225 N 170th St. 94) from 4:30-6 https://www.eventbrite.com/e/50-mile-march-mission-briefingmeet-and-greet-tickets-316787910167?aff=logan.
We would love for you to join us as Jay Miralles, the President/Founder of the 50 Mile March foundation, will share the history and mission behind this amazing cause. Please RSVP to myself if you plan on attending. This is an invite only event.
Thanks in advance for your kindness and support. We hope to connect with you here soon!

Images
Additional Info
Media Contact : Logan D West
Related Links : Logan D West
Source : Logan D West