CODE "I Am" Education Series - I Am More Than My Mental Health- Wednesday, November 8th, 2023 1pm - 3pm
Wednesday, November 8, 2023 (1:00 PM - 3:00 PM) (CST)
Description
The "I Am" Series aims to address society's tendency to stereotype individuals by placing them into specific categories based on certain traits like appearance, ethnicity, gender, or religion. The series emphasizes that every person is a unique and multifaceted individual, extending far beyond a single characteristic. By limiting our perception of others to just one aspect, we risk trivializing and misunderstanding them.
Through this series, the organizers intend to broaden attendees' perspectives and challenge their own stereotypes. By acknowledging the complexities of each person, the hope is to promote greater understanding, acceptance, and love for oneself and others. The goal is to celebrate the diversity and wonder that exists in every individual and foster a more inclusive and compassionate society.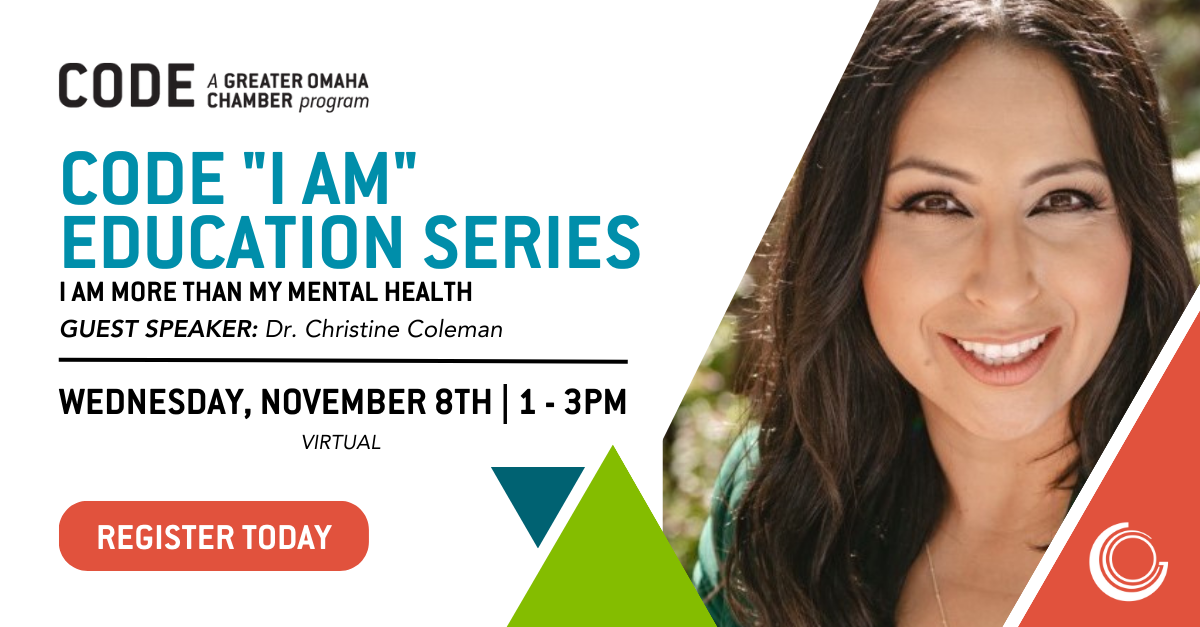 Wednesday, November 8, 2023 (1:00 PM - 3:00 PM) (CST)
Virtual
Categories
Employer Coalition
CODE – other
Annual Conferences & Events
Connect with others in your industry. Celebrate the achievements of Omaha businesses. Champion the next generation and help your employees grow professionally. It's all possible at our annual conferences and events.
Networking & Leadership Series
We host 60+ networking events each year. That's lots of chances for you to make professional connections with potential business partners or clients.