Webinar - Next-Gen Mobility & Security with Desktop as a Service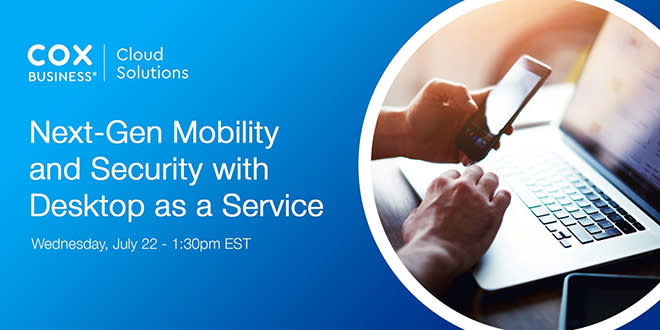 How often do you wish you had a secure network for your team to work from anywhere or that you could attract talent from outside your market?
Cox Business Cloud Solutions will be hosting a webinar that will focus on Desktop as a Service (DaaS).
The session will dive deeper into the benefits of DaaS, which gives your team secure access to your applications on any device – moving all your business apps and desktop programs to the cloud.
Simplified IT Management

Hardware Refresh - extend the life of existing hardware by no longer relying on the local machine to perform tasks or run applications.
Scalability - rapidly add new users with the single click of a button – deploying the desktop and applications to anyone in the organization.

Mobility & BYOD - as long as there is an Internet connection, users can connect to their desktop environment on any device.
Security - your DaaS infrastructure is protected from security breaches by enterprise-grade software, secured by 2048-bit SSL encryption and monitored by our 24/7 security operations center. All data is protected by 256-bit AES encryption in transit and at rest.
With today's ever-growing 'work from anywhere' environment, DaaS can give your business security with defined control and, at the same time, freedom for your end users.
Wed. July 22nd
12:30 – 1:15pm CST
You can register HERE
Find out more about our cloud services @ coxbusiness.com/cloud.
Media Contact : melanie.lotspeich@cox.com