BUSINESS DIRECTORY
Discover our 3,000+ member businesses
Workshop
Categories
Human Resources Technology Services Business & Professional Services Technology Services
About
Workshop is a delightful internal communications platform that gives your employees a go-to place for important information, and gives you an easy way to share it. Create relevant, well-designed messages in minutes, and send them to a targeted audience via email, text, or Slack. You can use Workshop to create and share all kinds of internal communication: all-company newsletters, policy updates, office closures, new hires, letters from the CEO, and more, all within a single piece of software.
A few highlights of using Workshop:
Easy-to-use composer: Craft your company updates in minutes, not hours.
Custom distribution lists: Create custom lists to easily target employees based on location, department, and more.
Share via email, SMS, & Slack: Meet your employees where they're at and push notifications to the channels they use the most.
Editable content: Spelling mistakes? Listed the wrong date? You can edit your update (even after you've sent it) and make sure employees get the right information.
Actionable data: Analyze your message's performance, see who has read it, and outline next steps.
Attach important resources: Add files, links, or videos to give employees all the information they need, all in one place.
Two-way communication: Get instant feedback on your update with comments and reactions.
Simple, streamlined design: No design skills needed; you can create clean, well-formatted messages and add imagery to keep it all on brand.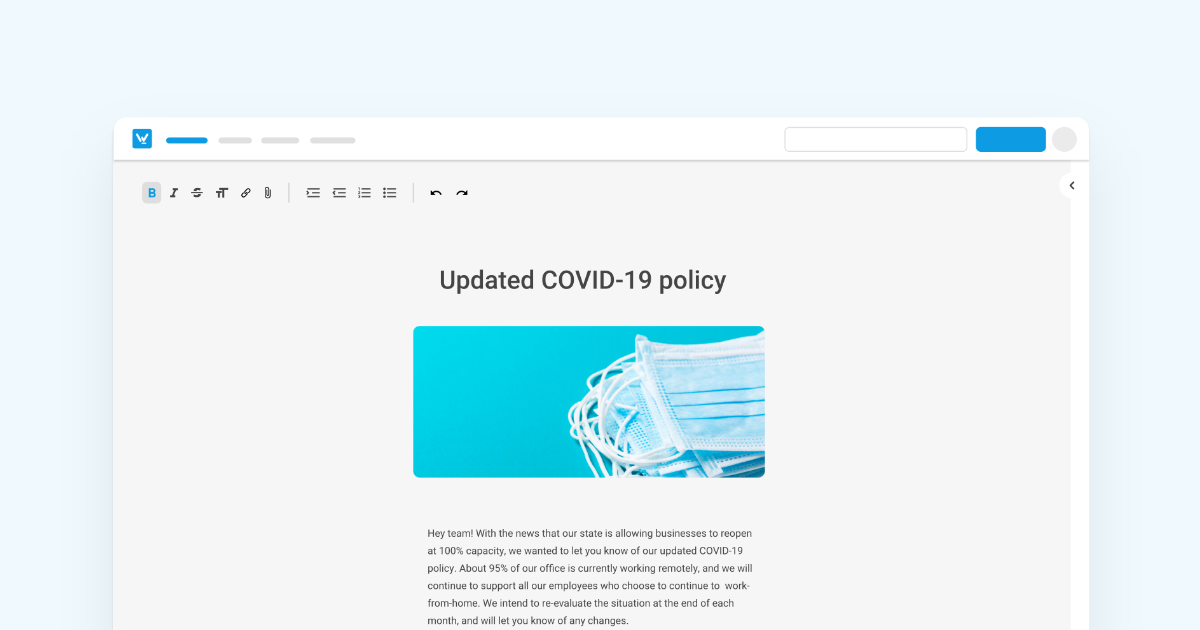 We absolutely love working with local companies and organizations and are proud to be a growing technology startup in the midwest! Mention this listing and we'd be more than happy to offer you a free 30-minute consultation and show you how you can use internal communications to improve employee engagement, retention, and more.